A new RTU with innovative features
SOFREL S4W remote terminal units are very easy to implement and use, thanks to their graphical interface, numerous setup and self-monitoring wizards, the ability to import/export configurations, and much more…
S4W offers a number of brand new features:
Graphical configuration and full management of the lift station

A view representing the lift station enables very simple configuration of your equipment. Pumping automation (1 to 4 pumps) is fully managed by the S4W. The S4W closely monitors pumping efficiency by recording the running times and average flow rates of each pump. Based on these calculations, the S4W is able to detect clogged or worn pumps. Operating in real time, the S4W immediately alerts the operator of any overflow.
An onboard web server for interaction via any mobile terminal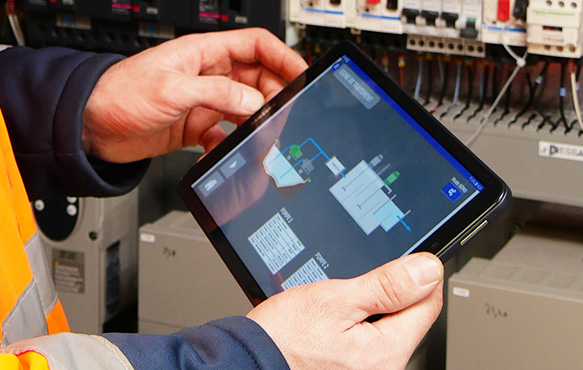 SOFREL S4W users will be able to access their telemetry equipment in complete security from any terminal (smartphone, tablet or PC). The Plug & Play web server (HTML5 and responsive) allows them to monitor and acknowledge alarms, keep track of data, and adjust setpoints remotely using a simple web browser.
It is possible to define up to 20 animated synoptic diagrams per S4W, with the ability to navigate between mimic diagrams. The web server function gives access to dynamic, zoomable information curves to facilitate data and event visualisation.
Secure communication
Efficient, secure communications are core aspects of the S4W offer.
With a multi-operator package, the device offers continuous tests to find the best operator (reception level, network latency, successful transmission %, etc.). According to the quality shown for each signal, communications will take place via the operator producing the best results at that time.
Furthermore, in the event of ADSL outage, the S4W can automatically transfer communications to the 4G interface to ensure continuity of transmissions.