The Société Wallonne Des Eaux (SWDE) is a state-owned company responsible for the production and distribution of drinking water in Wallonia. The water distribution network managed by the SWDE covers more than 36,000 km and supplies 2.5 million consumers across 200 different communes. Today, nearly 70% of the population of Wallonia receives its water from the SWDE.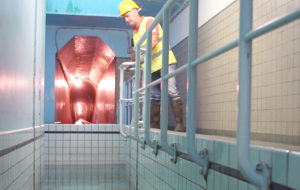 The SWDE's main objectives are to:
produce drinking water while ensuring the long-term conservation of the resource through sustainable consumption,
ensure the entire area receives a continuous supply of quality water while maintaining the quality of the water pressure,
design and maintain production and distribution infrastructures
guarantee that private, public and industrial customers are satisfied by anticipating and meeting their water needs.
To achieve its objectives, the SWDE focuses on making its production and distribution infrastructures as efficient as possible. In doing so, the water operator hopes to reduce its network operational costs and offer the most cost-effective water service to its customers.
To this end, one of the SWDE's strategic objectives is to find and repair any leaks in the network as quickly as possible.
The SOFREL LS data logger plays a key role because it is what provides us with the data.
Benoît MOULIN SWDE Spokesperson