SOFREL YDRIX a new Smart RTU for water network telemetry
SOFREL YDRIX is a new modular RTU entirely dedicated to remote control of hydraulic structures.
Designed to meet the needs of water network operators and localities, SOFREL YDRIX RTU combines integrated 4G communication, cybersecurity and process control in a single product.
SOFREL YDRIX can be very easily interfaced with pumps, valves, sensors and modbus equipment present at the hydraulic facilities. Fully modular and offering "water business" function blocks, SOFREL YDRIX adapts to all types and sizes of installation.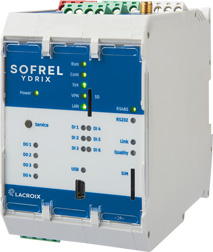 A RTU with many assets
2G/3G/4G & Ethernet integrated communication,
Real-time remote management,
Automation fonction with dedicated water library blocks
VPN & Cybersecurity,
DNP3 & IEC compliant,
Inter-sites M2M communication,
Easy network management…
SOFREL NEO a new 4G LTE-M / NB-IoT data logger for water networks monitoring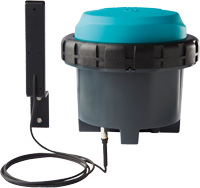 Build to last and communicating for a long time, SOFREL NEO helps water utilities and operators to meet everyday challenges. Waterproof (IP68), battery powered, robust and very easy to install, this solution is designed for installation in underground water manholes subjected to immersion phenomena and aggressive environment.
SOFREL NEO monitors water metering and flows in real time, registers data, calculate flow rates and transmit all these data periodically or on event detection.
Thanks to a dedicated software SOFREL NEO allows water authorities to cover specific water use cases such as:
District Metering Area
Large consumer remote metering
Leak detection
Pressure measurement and monitoring
Water quality monitoring.
Sewage overflow detection
Permanent diagnostic in wastewater