Reinforce our product and service innovation by anticipating the IIoT shift
Launch the new 4.0 RTU range: SOFREL S4W / S4TH
The Sofrel S4 range (S4W & S4TH) represents a turning point in the strategy of our remote management product offer. Designed to replace the S500 range, a success story over the last 10 years with more than 200,000 products deployed worldwide, it had to respond to many challenges. This new product range needed to incorporate the fundamentals from the S500 range:  modular, robust, easy to install and operate remote terminal units with integrated communication featuring today's connected equipment necessities: IP communication, 2G/3G/4G, integrated cybersecurity, embedded web server, automation workshop and more. With more than 5000 Sofrel S4s already installed, the transition to Telemetry 4.0 is well under way.

Expand the range and explore new offers
In order to respond to new use cases and the expectations of the international market, a project to expand the SOFREL range has been carried out. It has resulted in new versions of data loggers that meet new uses or standards required by certain countries. The remote management line has also been enriched with new features and compatibilities, both at the remote terminal unit and centralisation solution levels (OPC interfaces, Cloud solutions, HTML5 interfaces, etc.).
he rapid development of the world of connected objects (IoT) has led us to analyse new communication technologies such as NB-IoT or LoraWan in order to develop our data logger offer and work on connected sensor projects.
Full IP and "cybersecurity by design"
In the last 5 years, we have witnessed a fundamental change in uses. We have gone from products that collected data and sent orders via PSTN lines or GSM Data technology to the era of Full IP. Behind this development is a major change in the risks to which water and energy management infrastructures are now exposed. This has led to an obligation to design products according to the principle of "cybersecurity by design". To ensure that security is global and seamless, we have developed a connected and secure ecosystem so that remote management can deliver its full potential. Thus, the new Sofrel S4W /S4TH ranges of Remote Terminal Units are intrinsically secured "by design", as are their ecosystems: S4 Manager for managing authorised users, S4-Keys for managing authentication and encryption certificates and SG4000 for securing data transmission.
IoT & new communication technologies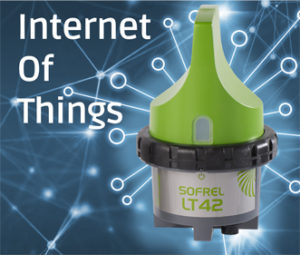 Faced with this technological breakthrough that allows us to imagine so many new uses, we had to offer connected equipment that guarantees reliable communication and a very high level of service continuity. For water and energy network operators, the presence of global telecom coverage on a national scale including for the most isolated facilities is fundamental. This is one of the advantages of 4G LTE-M or NB-IoT cellular technologies. Other uses may lead us to rely on communication technologies such as LoRa or Sigfox. To this end, various partnerships have been formed with the main cellular, water and energy operators to conduct experiments. These concrete experiences have led to our integrating these technologies into our products.
In addition, in order to keep up with the evolution of telecommunication technologies, which are accelerating, we have invested in a LACROIX Group partnership with Orange for experimentation with 5G as applied to our use cases. A Sofrel S4TH communicating in 5G is already in use at the LACROIX Electronics plant in Saint Pierre Montlimart.