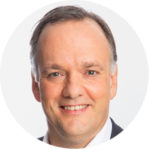 Ronald VRANCKEN
CEO LACROIX Environment Activity
Dear customers and readers,
We are delighted to welcome you to the autumn edition of the LACROIX Environment newsletter.
Even if the global economic situation is heavily impacted by the war in Ukraine, the crisis in electronic components and the soaring costs of energy and raw materials, the LACROIX Group is continuing to develop and invest in digitalisation and internationalisation.
As part of its digital transformation and Industry 4.0, LACROIX inaugurated its brand new futuristic electronic assembly plant (SYMBIOSE) in Beaupréau (Maine-et-Loire department, dpt 49) on 8 September, in the presence of the Minister of Industry, Roland Lescure. This factory, which is part of the France Relance recovery plan, was built in less than 18 months. It covers an area of 19,000 m² and employs 450 people.
A fully connected factory that is part of an Industry 4.0 and CSR approach with a focus on "Made in France", technological innovation, protecting the environment, and social innovation. This new factory offers SOFREL's remote monitoring products multiple benefits: a very high level of reliability, full traceability, total control of our supply chain and a reduced carbon footprint. Furthermore, the purchasing power that this factory represents (more than 500 million components purchased per year) enables us to manage the shortage of electronic components as effectively as possible in a global market that is still very much under pressure, and in doing so, ensure that delivery times for our products are maintained.
Despite the issues linked to the global economic situation, LACROIX's Environment activity is continuing its international growth through its CPP (Channel Partner Program) programme, which now brings together more than 30 companies that represent and support SOFREL and SAE brand products around the world. After opening our subsidiary in Singapore a few years ago to support our development in the ASEAN region, we are now strengthening our presence in the Middle East through a permanent representative in Saudi Arabia and new projects secured with the NWC (National Water Company).
Lastly, still fully committed to innovative projects, our company was honoured to be awarded the special innovation prize at the latest Breton Economic Forum (FEB); this award recognised our Smart Water Network, which aims to improve the performance of water networks with a new equipment offering that will communicate using 5G networks."