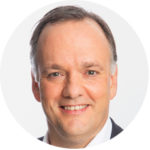 Ronald VRANCKEN
CEO LACROIX Environment Activity
Dear readers,
We are pleased to welcome you to this new edition of our newsletter LACROIX-Environment Activity. As we approach the end of the year, we would like to look back on the highlights of the last few months.
First of all, we had a lot of pleasure to meet you in face-to-face mode during the H20, POLLUTEC and IBS exhibitions which took place with success and respect of the sanitary measures. It was the opportunity to present you live our latest innovations such as: our new range of 4G M2M data loggers SOFREL DL4W, our residual chlorine monitoring solution SOFREL ChlorIN, our new version of the SOFREL PCWin2 software integrating mapping and business analysis modules, our new range of IoT sensors SOFREL IoT Sensors, without forgetting our cyber-secure remote management products, SOFREL S4W and S4TH which continue to be enriched with new features.
In September, we also innovated with our new international event "Virtual Channel Partner Conference", which enabled us to bring together our entire international network remotely, in the form of an interactive TV set, to share with them our Leadership 2025 strategic plan, our product road maps and to allow them to present their achievements and successes.
Finally, 2021 also saw the third edition of our Customer Satisfaction Survey, to which many of you agreed to respond; we would like to thank you for this and are proud to be able to announce an overall satisfaction rate of 94%, with particularly high levels of satisfaction with our Customer Service, both before and after sales.
In conclusion, I would say that, despite the difficult period of pandemic we are going through, the year 2021 has been very rich in innovation and success; we thank you for your trust and we have a lot of new things in store for 2022.
In the meantime, all the teams at LACROIX Environment join me in wishing you a very happy holiday season!