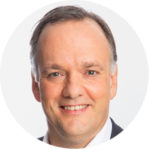 Ronald VRANCKEN
CEO LACROIX Environment Activity
Dear customers and readers,
We are delighted to welcome you to this new edition of our newsletter for the LACROIX Environment activity. To begin, we would like to look back on some events that have marked these last weeks. First of all, we say farewell to the SOFREL S500 RTU which, after 19 years of success and more than 250,000 installations worldwide, bows out to make way for the new SOFREL S4W generation. This was launched 2 years ago, to enter the era of remote management 4.0, cybersecurity integration, web server, automation workshop, business functions (lift station, etc.), in addition to all the functions that made up the strengths of the S500 generation.
During the last few weeks we have also been able to celebrate the 50th anniversary of the SOFREL brand, which today represents the remote management products of the LACROIX Environment activity for the Smart Water and Smart HVAC markets, as well as the 50th anniversary of the SAE brand of our sister company based in Cologne, leader in the German Smart Grids market.
Finally, these first months of 2022 have seen a strengthening of our international development thanks to our new "Channel Partner Program" which allows us to be active in more than 40 countries, with a particularly strong presence in the Middle East and in particular Saudi Arabia with 3 new representation agreements.
Beyond this good news, we must unfortunately, like many companies, face the global shortage of electronic components and the increase in raw material costs. Fortunately, our industrial and multi-sourcing organization allows us to cope with this situation as well as possible, without heavily penalizing our delivery times and the price of our products. Maintaining the quality of our products and our delivery times remain the daily priority of our teams.
We hope to welcome you in the coming weeks on our stands at the IFAT exhibition (Munich, May 30 to June 3), where you will be able to discover our new products and solutions: SOFREL YDRIX,SOFREL DL4W, SOFREL ChlorIN and LX Connect, as well as innovations that will prepare our solutions for tomorrow.