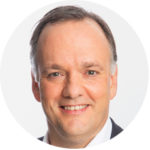 Ronald VRANCKEN
CEO LACROIX Environment Activity

Frédéric RODE
Deputy CEO LACROIX Environment Activity
Dear Customers and readers,
In this first LACROIX LACROIX Environment of 2023, we would like first to look back on the highlights of the past year.
Despite a tough 2022, marked by tragic geopolitical events, the aftermath of the COVID pandemic, a historic drought and the electronic components crisis, LACROIX Group has risen to the challenge and has continued to take a positive approach. Our level of activity has even increased, especially in international markets, which have seen strong growth. Our product range has been enhanced with new 2G and 4G IoT communications solutions and the launch of a range IoT sensors…
2022 was also the year of the 50th anniversary of the SOFREL brand. We would like to thank our customers, suppliers and partners for their renewed confidence in 2022, which has enabled us to continue to develop and innovate in order to offer products and solutions that serve the environment and the management of our natural resources.
2023 will bring new challenges, notably the consequences of the energy crisis and the crisis in electronic components, which may unfortunately last, but for which the industrial strength of the LACROIX Group and its supply chain allows us to remain optimistic. As we did in 2022, we will do our utmost to ensure that we meet our delivery deadlines, as well as the quality of our products and our customer service. Maintaining our proximity to our customers will remain a fundamental challenge for the commitment of all LACROIX teams in 2023.
2023 will also be marked by numerous innovations around the digitalisation of our offer, the rise of Artificial Intelligence, Edge Computing, 5G, and always cybersecurity, which is more and more fundamental in our world of connected infrastructures.
We look forward to seeing you at the 2023 events that will unveil these new developments. The continuation of our international development with the strengthening of our presence in various countries and our network of Channel Partners will also be at the heart of our strategy during this new year.
2023 will also see the intensification of the LACROIX Group's CSR strategy with the appointment of Louis PRAT as VP Impact & Sustainability; the Environment activity and SOFREL products are fully in line with this Social and Environmental commitment.
To better meet these new challenges, accelerate change and boost growth, we have changed our organisation and are pleased to announce the appointment of Frédéric RODE as Deputy Managing Director.