SOFREL NEO a new 4G LTE-M / NB-IoT data logger for water networks monitoring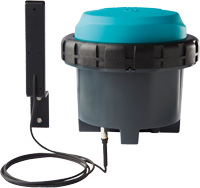 Build to last and communicating for a long time, SOFREL NEO helps water utilities and operators to meet everyday challenges. Waterproof (IP68), battery powered, robust and very easy to install, this solution is designed for installation in underground water manholes subjected to immersion phenomena and aggressive environment.
SOFREL NEO monitors water metering and flows in real time, registers data, calculate flow rates and transmit all these data periodically or on event detection.
Thanks to a dedicated software SOFREL NEO allows water authorities to cover specific water use cases such as:
District Metering Area
Large consumer remote metering
Leak detection
Pressure measurement and monitoring
Water quality monitoring.
Sewage overflow detection
Permanent diagnostic in wastewater